I'll be honest. I slacked off a fair bit this week. And OMG you can tell! I spent Friday and Saturday catching up with this week's challenges. There's also a lack of pics cause I was too busy cleaning
Day 11's challenge was to clean our washing machine and organise our linen cupboard.
We now have a clean washing machine again.
The linen cupboard wasn't too bad as I'd gone through our sheets & towels not too long ago, it just needed a tidy up.
Day 12 was the dishwasher's turn to get clean. I love this way of cleaning my dishwasher now, no more chemical cleaners. Miss K got in on the action too.
I also decluttered and organised our bathroom cupboards
Day 13 was cornice cleaning and sorting artwork. Miss K has recently gotten into drawing and painting so I'm getting this system in place now.
Day 14 was the office. Since I'm being honest, I'll let you know I skipped this room. It is currently the dumping ground while our garage is being cleaned (our office is off the garage). I've filed all the notes away for when we get stuck into it (which will hopefully be soon)
Day 15 was cleaning outdoor areas. I cleaned the area around our front door, did a bit of weeding and planted some potted colour.
Onto Week 3…..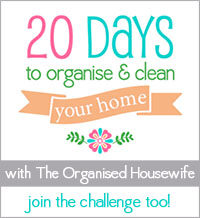 Tagged: Organising